Tulpan
Courtship, ambition... and sheep.
The traditional lifestyle of nomadic sheep herders on the harsh Kazakh steppe provides quietly sensational drama in Tulpan, the feature debut of Kazakh-born documaker extraordinaire Sergei Dvortsevoy (Bread Day, Highway, In the Dark). This engrossing tale of a young man who can't achieve a long-cherished dream of tending his own flock without first acquiring a wife offers fascinating ethnographic detail, gentle humor and spectacular cinematography. Throughout Central Asia, more and more young people are rejecting the hard life of their parents and migrating to cities in search of work. Writer-director Dvortsevoy contrasts the lure of modern, metropolitan living with the herders' fast-vanishing way of life. Just as he cleverly refrains from really showing the title character, whose imagined charms become all the more potent from never being seen, so, too, does he let the mere concept of the city represent a myriad of meanings for his characters. The arid area of southern Kazakhstan called Betpak Dala is a place that barely sustains the few remaining humans or their herds of sheep. There, a herdsman can't hope to survive without a wife to cook, clean and do the wash. Recently discharged from the Russian navy, Asa (Askhat Kuchenchirekov), shares a yurt (a tent house made of skins) with his beautiful older sister Samal (Samal Yeslyamova), herdsman brother-in-law Ondas (Ondasyn Besikbasov) and their four rambunctious children. Asa, with boisterous best buddy Boni (Tulepbergen Baisakalov) and Ondas, calls on the only family in miles with an eligible daughter, the eponymous Tulpan (whose name means 'tulip'). Hoping to leave the steppe and go to college, she tells her parents to refuse him, claiming it's because his ears are too big. The entire cast plays convincingly, with the adult performers seemingly living their parts. Matching the sterling performers for screen time – and presence – is a veritable menagerie of animals, including camels, horses, donkeys, goats, dogs and kittens. A shot of a bandaged baby camel folded into a motorcycle sidecar while its anxious mother trots and brays nervously in the background is priceless. – Alissa Simon, Variety
Showtimes:
No screenings currently scheduled.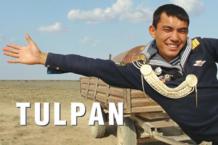 Directed by:
Sergei Dvortsevoy
Language:
In Kazakh and Russian with English subtitles.
Starring:
Ashkat Kuchenchirekov, Tulepbergen Baisakalov, Ondas Besikbasov, Samal Yeslyamova
Screenplay by:
Sergei Dvortsevoy, Gennadi Ostrovsky