The Duchess
After PRIDE AND PREJUDICE and ATONEMENT, Keira Knightley continues her reign as the queen of the period film with this 18th-century costume drama. The corset-clad actress stars as Georgiana Spenser, the Duchess of Devonshire. With her marriage to the duke (Ralph Fiennes), Georgiana achieves an impressive level of fame as Britons follow both her clothing style and her political advice. But even celebrity and wealth can't act as a salve in her marriage to the boring, boorish duke. When he begins to flaunt his affairs, Georgiana is tempted to return to a teenage crush, Charles Grey (Dominic Cooper of THE HISTORY BOYS), to the anger of her husband and her mother (Charlotte Rampling, SWIMMING POOL). Fiennes's portrayal of the duke ranks roughly with his Lord Voldemort on a scale of beastly behavior, but the acclaimed actor manages to give him a level of humanity that far surpasses what he deserves. THE DUCHESS focuses on the lack of power possessed by Georgiana and, in fact, all women of her time, and the duke is the primary agent of her suppression. As she has done with other period films from the PIRATES OF THE CARIBBEAN series to KING ARTHUR, Knightley brings spirit to the role, as well as a regal carriage that perfectly fits the detailed costumes by Michael O'Connor. Fans of history-based drama--Georgiana was real-life royalty who is found in the genealogy of Princess Diana--will find much to like in this film, which boasts impressive locations, lush costumes, and forbidden love.
Showtimes:
No screenings currently scheduled.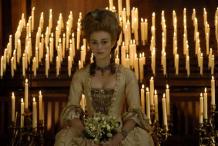 Country(ies):
UK, Italy, France
Starring:
Keira Knightley, Ralph Fiennes, Charlotte Rampling, Dominic Cooper, Hayley Atwell, Simon McBurney, Aidan McArdle, John Shrapnel
Screenplay by:
Jeffrey Hatcher, Anders Thomas Jensen, Saul Dibb
Merchandise
Name plaques, donations, gift certificates, memberships, aprons, market bags, T-shirts, hats, 35mm bookmarks, 35mm earrings and button.
Due to shipping expenses, we request a minimum $25 order.