Secretariat
The Impossible True Story
Based on the Novel "Secretariat: The Making of a Champion" By William Nack, Secretariat chronicles the spectacular journey of the 1973 Triple Crown winner. Housewife and mother Penny Chenery (Diane Lane) agrees to take over her ailing father's Virginia-based Meadow Stables, despite her lack of horse-racing knowledge. Against all odds, Chenery-with the help of veteran trainer Lucien Laurin (John Malkovich)-manages to navigate the male-dominated business, ultimately fostering the first Triple Crown winner in 25 years and what may be the greatest racehorse of all time.-- (C) Disney Official Trailer
Showtimes:
No screenings currently scheduled.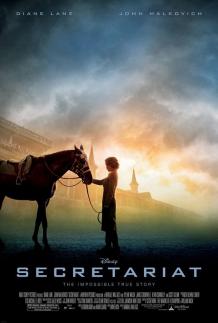 Directed by:
Randall Wallace (Screen Play), William Nack (Book)
Starring:
Diane Lane, John Malkovich, Dylan Walsh, Dylan Baker, Margo Martindale, Nelsan Ellis
Merchandise
Name plaques, donations, gift certificates, memberships, aprons, market bags, T-shirts, hats, 35mm bookmarks, 35mm earrings and button.
Due to shipping expenses, we request a minimum $25 order.