Rudo and Cursi (Rudo y Cursi)
~Official Selection Sundance Film Festival~
Beto (Diego Luna) and Tato (Gael García Bernal) Verdusco are brothers who work at a banana plantation and also play soccer for the village team. Nicknamed "Tough" because of his personality and football style, Beto dreams of becoming a professional soccer player; Tato's dream is to be a famous singer, and both share the dream of building a house for their mother, Elvira (Dolores Heredia). They have a change in luck when "Batuta," a soccer talent scout, discovers them accidentally. Tato is the first to move to the big city where he becomes the star goal scorer for the prestigious Deportivo Amaranto (Amaranto Club). His baroque playing style earns him the nickname of "Corny". Although Beto feels he has been betrayed and left behind, he soon travels to Mexico City to become the goalkeeper for Atlético Nopaleros (Nopaleros Team). At the peak of glory, they forget all animosity, although it does not last long. At the very real possibility of fulfilling all of their dreams, the siblings must face an innate rivalry as well as their own demons and limitations. Beto is a gambler and allows his addiction to drag him down; Tato is unable to recognize his true talents and squanders every opportunity by pursuing a false idea of celebrity and status. The dream seems to slip through their fingers. And it is at their worst moment that the brothers find forgiveness trying o help each other while casting headlong towards their individual destiny.--© Sony Pictures Classics
Showtimes:
No screenings currently scheduled.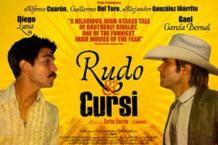 Directed by:
Carlos Cuarón
Language:
Spanish with English subtitles
Starring:
Gael García Bernal, Diego Luna, Guillermo Francella, Dolores Heredia, Jessica Mas, Adriana Paz
Merchandise
Name plaques, donations, gift certificates, memberships, aprons, market bags, T-shirts, hats, 35mm bookmarks, 35mm earrings and button.
Due to shipping expenses, we request a minimum $25 order.