Noemie: Le Secret
Délaissée par ses parents débordés de travail, Noémie, une fillette de sept ans et trois quarts, passe le plus clair de son temps à l'étage du dessus, chez sa gardienne, madame Lumbago. La vieille dame apprécie sa compagnie, surtout depuis la mort de son bien-aimé mari, il y a un an. Or, Noémie se souvient d'une histoire que lui racontait ce dernier, à l'effet qu'un trésor serait caché dans l'appartement. L'imaginaire imbibé d'une grande quantité de films policiers ou d'horreur, la fillette entreprend de trouver ledit trésor, avec l'aide de madame Lumbago et d'un camarade d'école. Ce qu'elle découvrira changera sa vie à jamais. Noemie is seven and 3/4s years old, has an insatiable curiosity and very hard working parents. Fortunately, there is the upstairs neighbour, Mrs. Lumbago, a woman who loves her like a grandmother would. On the first anniversary of the death of Mrs. Lumbago's husband, Mr. Emile, the apparition of the old man reminds Noemie of a story he liked to tell: the story of a treasure hidden somewhere in the apartment. Noemie decides to undertake a treasure hunt. In doing so, she will make some discoveries about the adult world.
Showtimes:
No screenings currently scheduled.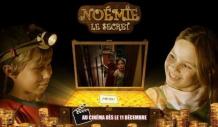 Directed by:
Frederick D'Armours
Starring:
Raymond Bouchard, Paul Doucet, Camille Felton
Merchandise
Name plaques, donations, gift certificates, memberships, aprons, market bags, T-shirts, hats, 35mm bookmarks, 35mm earrings and button.
Due to shipping expenses, we request a minimum $25 order.