Mao's Last Dancer
Based on the bestselling autobiography by Li Cunxin
Like Nureyev and Baryshnikov, Li Cunxin was a ballet dancer too talented to be hidden from the eyes of the West, and too canny not to defect at the earliest opportunity. He made his grand jeté to freedom in 1981 while a guest artist at the Houston Ballet and danced with the company for 16 years. Later, he moved to Australia with his wife, Mary McKendry, and joined the Australian Ballet. His memoirs, a straightforward, inspirational story published in 2003, were a surprise international bestseller. Now comes the film, which has been put into the capable hands of screenwriter Jan Sardi (Shine) and Bruce Beresford (Driving Miss Daisy, 'Breaker' Morant) – neither of them slouches at straightforward, inspirational stories. In 1972, 11-year-old Li (Huang Wen Bin) is plucked from a dirt-poor village in Shandong province and sent to Madame Mao's Beijing Dance Academy. Here, he is subjected to years of gruelling training and Maoist claptrap. Spotted by Houston Ballet director Ben Stevenson (Bruce Greenwood), the adult Li (played by Birmingham Royal Ballet principal Chi Cao) is seconded to America, where he quickly realises that the West is not the den of poverty and decadence the party's propagandists would make out. After falling for an American dancer called Liz (Amanda Schull), Li starts hatching plans to stay, but faces the agonising possibility of never seeing his family back in China again. The production enjoyed a surprising amount of access to Chinese locations and these scenes – photographed by Peter James – are shot in a grainy, nostalgic style. Chi Cao is a likeable leading man whose dancing is spectacular, and Joan Chen is moving in brief scenes as Li's mother. The film's galvanising performance, however, comes from Canadian actor Bruce Greenwood as Li's mentor Ben Stevenson. A scene in which Stevenson, a driven but gentle and nurturing man, has to explain to Li the meaning of a racist term, is quite affecting. Aussie moviemakers have shown themselves adept at a range of genres this year and we should not be surprised to see a great 'coming-to-America' film among them. Mao's Last Dancer's two hours go by in a flash, and the ballet sequences choreographed by Graeme Murphy are an added visual treat in a film with an embarrassment of riches. Late in his career, Bruce Beresford has delivered one of his best movies. – Nick Dent, Time Out Sydney
Showtimes:
No screenings currently scheduled.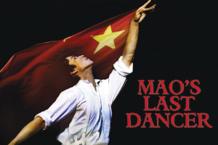 Directed by:
Bruce Beresford
Language:
English & Mandarin
Starring:
Chi Cao, Bruce Greenwood, Joan Chen, Amanda Schull, Kyle MacLachlan, Huang Wen Bin
Screenplay by:
Jan Sardi screenplay based on the autobiography by Cunxin Li
Merchandise
Name plaques, donations, gift certificates, memberships, aprons, market bags, T-shirts, hats, 35mm bookmarks, 35mm earrings and button.
Due to shipping expenses, we request a minimum $25 order.