Flipped
When second-graders Bryce and Juli first meet, Juli knows it's love. Bryce isn't so sure. Beginning that day, and for the next six years, young Bryce (Callan McAuliffe) does everything he can to keep his outspoken wannabe girlfriend at arm's length...which isn't easy since they go to the same school and live across the street from each other. Smart, dreamy, independent and willing to stand up for what she believes in, Juli (Madeline Carroll) is different from anyone else he knows and, frankly, it's a little overwhelming. What's a guy supposed to do when a girl tells him his hair smells like watermelon or wants him to sit in a tree for the spectacular view? There's just no telling what Juli will do next, and Bryce is one guy who'd rather be safe than sorry. Though disappointed by Bryce's unwillingness to see things her way, or even to see the things in life she finds most meaningful, Juli continues to give her potential dreamboat the benefit of the doubt. Until those doubts stack up so high that she finally thinks maybe she was wrong about him. It's just about the same time Bryce starts to think maybe he was wrong about her, too. But is he too late? The coming-of-age romantic comedy "Flipped," from director Rob Reiner, takes Bryce and Juli from Grade School to Junior High, through triumph and disaster, family drama and first love, as they make the discoveries that will define who they are--and who they are to each other. --© Warner Bros. Official Trailer
Showtimes:
No screenings currently scheduled.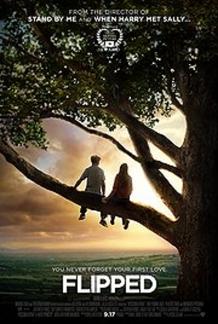 Starring:
Madeline Carroll, Callan McAuliffe, Rebecca De Mornay, Anthony Edwards, John Mahoney, Penelope Ann Miller, Aidan Quinn
Screenplay by:
Rob Reiner, Andrew Scheinman
Merchandise
Name plaques, donations, gift certificates, memberships, aprons, market bags, T-shirts, hats, 35mm bookmarks, 35mm earrings and button.
Due to shipping expenses, we request a minimum $25 order.