Ashes of Time Redux
Wong Kar Wai's beautiful but demanding 1994 martial arts epic "Ashes of Time" has been impeccably restored, with "Redux" added to its title, and boasts excellent subtitles that help the viewer understand that it is set in the parallel universe of its genre and unfolds in five parts according to Chinese seasons. Visually superb, its score enhanced by added music, "Ashes of Time Redux" is an elegiac, contemplative work with an elliptical narrative that is hard to follow. Its key figure is Ouyang Feng (the late Leslie Cheung), a shrewd, reflective swordsman whose rejection by the woman (Maggie Cheung) he loves leads him to settle in a desert shack, where he hires out other swordsmen as hit men. Meanwhile, a woman (Brigitte Lin) has gone mad from being rejected by Ouyang's close friend, the handsome, romantic Huang Yaoshi (Tony Leung Ka Fai). Huang, in turn, pines for the wife (Carina Lau) of his best friend (Tony Leung Chiu Wai). Upon the completion of the film, derived from a novel by martial arts genre master Louis Cha, Wong recognized that "Ashes" is an expression of an abiding preoccupation with -- and fear of -- rejection. It suggests that life can be beautiful, it can be an adventure, but that almost everybody seems to be unlucky in love and in life's choices. He further implies that the workings of fate and emotion will do most of us in every time -- but that a sense of humor helps. -Kevin Thomas, Los Angeles Times
Showtimes:
No screenings currently scheduled.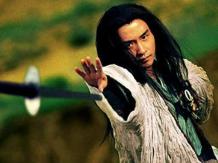 Directed by:
Kar-Wai Wong
Language:
Cantonese with English subtitles.
Starring:
Leslie Cheung, Tony Leung Ka Fai, Brigitte Lin, Tony Leung Chiu-Wai
Screenplay by:
Kar-Wai Wong based on the novel by Louis Cha.
Merchandise
Name plaques, donations, gift certificates, memberships, aprons, market bags, T-shirts, hats, 35mm bookmarks, 35mm earrings and button.
Due to shipping expenses, we request a minimum $25 order.